Outdoor Rugs
Saturday, 7 July 2018
Creating the perfect outdoor space is on everyone's mind at this time of year. This summer try introducing domestic rugs as an outdoor accessory to further bridge the gap between your exterior and interior living spaces.
Enriching the simple pleasure of lounging, textiles can turn your garden into an outdoor oasis. Adding a rug will help give definition to certain areas in larger gardens and create a comforting enclosed ambiance in smaller outdoor spaces.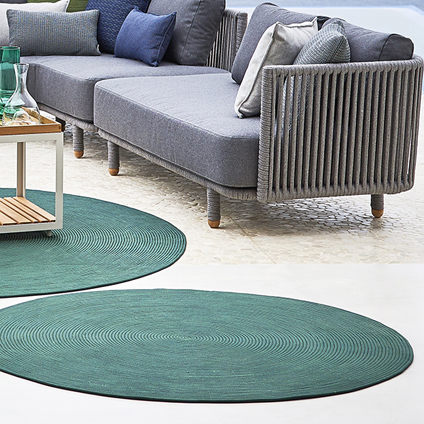 As Pictured Above: The Cane-Line Infinity Outdoor Rug from Lime
Available in varying shapes, patterns and finishes, outdoor brand Cane-Line present a wide collection that will instantly add ambiance or improve out-dated patios. Round shapes organically counteract the strict linear repetition of balconies and patio spaces, whilst tranquil ocean blue and green shades create a relaxed atmosphere.
The rugs are constructed solely of synthetic fibres, designed to withstand all weather conditions and the durable finish is extremely easy to maintain, they can simply be hosed and brushed down; all whilst still maintaining a surface that will cushion your feet.
Alongside a combination of neutral rattan, wood and ceramic furniture, why not coordinate with outdoor cushions and blankets that will keep you warm and cosy as the cooler evenings draw in.