Magnificent Marble
Friday, 8 January 2021
Unique, durable, hardwearing and beautiful, marble is a timeless material that retains a firm place in our current interior design trends. The material secures its exclusivity as no two cuts will ever be the same, making its appeal to those of us who crave something that no one else has.
Marble can be used in a variety of ways, as wall tiles, flooring, even as tabletops, and we've found some designs by Porada that showcase this material in all of its splendour.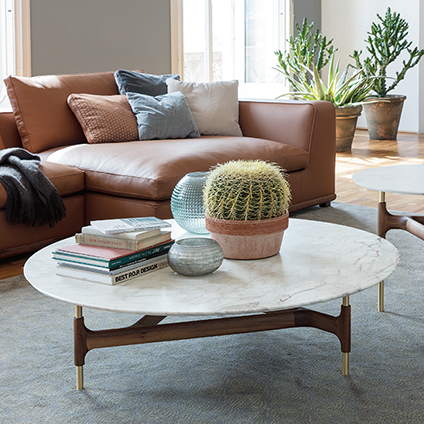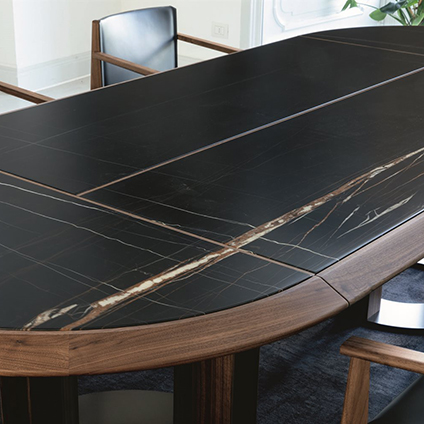 Pictured above: Porada's Joint Coffee Table and Thayl Table
Take the Ziggy Coffee Table – its wood frame securely houses an elegant marble top available in 3 different finishes, White Calacatta Gold, Dark Brown Emperador, and Black Sahara Noir to suit all your interior themes. Or to opt for a more minimalist design, why not look at the Joint Coffee Table which has a decadent marble top supported by a canaletto walnut element fixed to 3 brass metal tubular legs. You can continue this theme of marble tops into a dining room with the Thayl Table which is available in the same finishes as the Ziggy coffee table, and houses an opulent round or oval marble table top on a cylindrical base comprising canaletto walnut pillars and a Bronzoro metal ring base plate.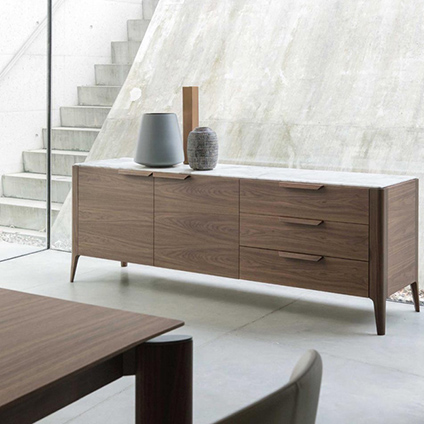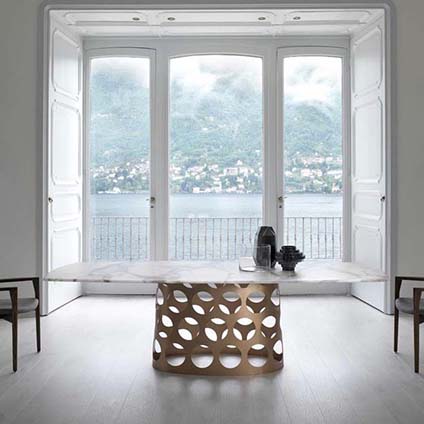 Pictured above: Atlante Wood Sideboard and Jean Marble Table
Perhaps you want a design with storage that still houses the elegance of a marble top – then the Atlante Wood Sideboard measures up. Featuring a solid wood frame with customisable doors and internal shelving, all whilst showcasing that all important marble.
If sustainability is a key pillar in your interior design decisions, then you may know that pure marble takes a lot of time and energy to produce. Ceramic marble is a blended material that has all the benefits and appearance of marble, but is kinder to the environment in its production. The Jean Marble Table is a great example of how a ceramic marble tabletop can turn into a bold and statement design, bringing drama and sophistication into your space whilst considering your impact on the planet.
The marble look has stood the test of time, and we know it will continue to do so for many years to come.