How to Holiday at Home
Saturday, 13 July 2019
Holidays are essential for our wellbeing, referred to as a 'vacation' in North America, the fundamental notion of a holiday is to 'vacate' the routine of normal life in order to reset. By breaking any underlying stress cycles this allows us to re-emerge into life recharged with a fresh perspective.
Instantly accessible technology has significantly blurred the boundary between work and play, suggesting the consistency at which we take breaks and switch off should be a consideration. With Pinterest searches for '24-hour travel' increasing, weeks in an exotic destination are finally becoming less of a priority in favour of regular, shorter breaks that promote relaxation.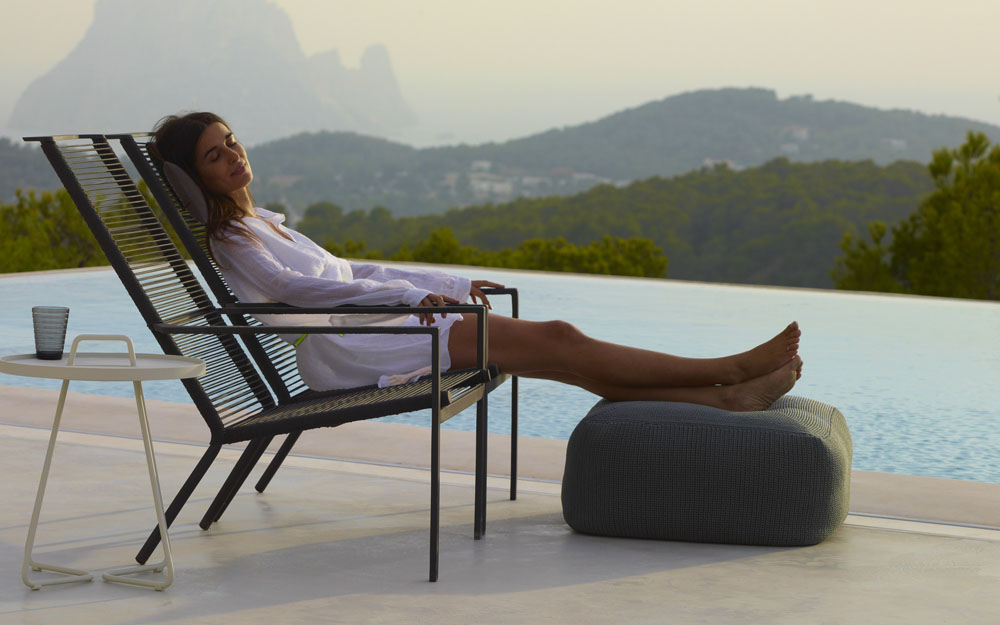 As pictured above: The Cane-Line Edge Highback Lounge Chair and Divine Footstool from Lime
Avoid high costs and crowds during the British summertime by enjoying a staycation instead. Appreciate your home by cultivating an outdoor oasis that forces you to unwind with holiday-inspired outdoor lounge furniture. Switch up your routine by planning ahead and officially establishing a start and end to your break. Completing all chores as you would prior to a trip away will give you freedom to immerse in a new book, dine alfresco and enjoy quality time with family without distraction.
Big cities are taking a back seat in favour of small town travel. Across the UK, explore little towns and pretty villages that can be planned and visited spontaneously, yet offer enough charm with picturesque scenery to feed your cultural cravings in just a one night stay.
Less than 24-hours can be sufficient to recharge. Visit a day spa or take up an active leisure pursuit such as golf that will encourage time off as you find necessary. Engaging frequently in such hobbies has been associated with lower blood pressure and lower levels of depression, indicating a key one-day method that will help maintain your physical and mental health in the long term.
Read next
Coastal Calm Living and Energise The Home For Summer