Festive Interiors: More Style, Less Stress
Wednesday, 6 December 2017
For some, Christmas can be a very stressful time of the year. If you have not already started giving your home a festive overhaul there is still plenty of to make your space a cut above the rest without the added stress.
The prospect of a traditional Christmas tree can often be messy and time-consuming. Companies like Balsam Hill present a faux alternative, specifically designed to replicate the 'lifelike foliage' of a real tree. Created from the moulds of live tree cuttings, the renowned BH Nordmann Fir features a rich conical silhouette that perfectly imitates one of Europe's finest evergreens. Opting for a LED pre-lit version will instantly inject a warm, festive ambience whilst relieving the frustration of unravelling last years lights.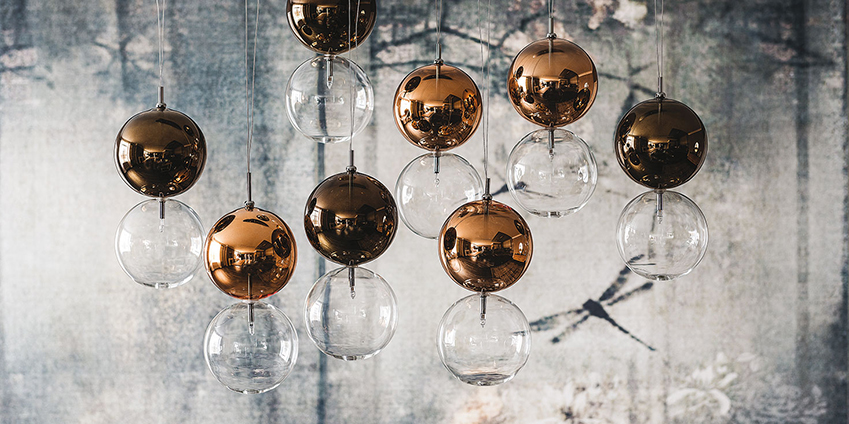 As Pictured : The Cattelan Italia Atollo Suspension Light
Resist the temptation to overload your tree, high-quality baubles and a focused colour scheme is often enough to tailor a visually impactive design. Shift away from customary red and green in celebration of this year's metallic trends. Statement copper and brass tones will promote a rustic charm when paired with lush green foliage whilst gold hues will induce a hint of decadence.
The Conran Shops' exclusive Metallica Collection presents lustrous, handcrafted spheres destined to add depth and sparkle. Equally stylish ornamental inspired pieces from Selfridges present a contrast of textures and shapes that will add character when positioned sporadically. An enticing range of scented baubles in Orange, Christmas Liquor and Gingerbread are perfectly evocative of the festive season, and a unique way to elevate the senses.
Finally, once your Christmas shopping is complete do not hesitate to wrap and ribbon your gifts in coordinating tones finished with string and complementing festive greenery.