Cattelan Italia: The Wow Factor
Friday, 14 September 2018
Milton Glaser, the American designer, once said, 'there are three responses to a piece of design – yes, no and wow'. The latter was certainly the response when Cattelan Italia presented its new collection during the 2018 Milan Design Week.
One of the most memorable pieces from the 2018 collection, is the Skorpio Round Ker-Wood table. It echoes the Skorpio dining table, but instead of a crystal-clear glass top, gracefully balanced on an abstract, geometric steel base, this work of art features a circular Canaletto Walnut or Burnt Oak top with a ceramic insert for a contrasting finish.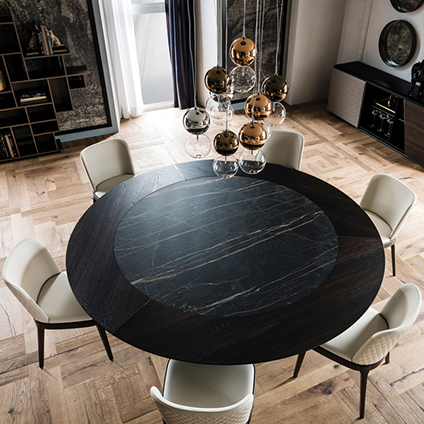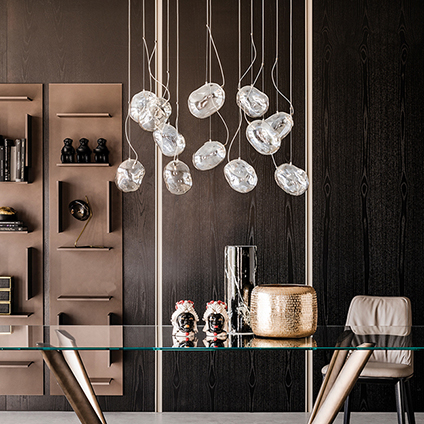 As pictured above from left to right: The Cattelan Italia Skorpio Round Ker-Wood Table and Cattelan Italia Cloudine Suspension Light
Another unforgettable highlight is the Cloudine suspension light. While maintaining the unchanged structure of the central rosette of the Cloud table lamp, the suspension light is suspended by fine cables and resembles surreal, distorted bubbles in iridescent or smoked glass, each with their own unique character.
Also featured in the new collection is the Planer Keramik table – a dining table with a strong personality, created by the acclaimed designer Paolo Cattelan. Its symmetrical steel base and luxurious top in ceramic Marmi make the perfect combination and give a sophisticated balance between the different materials.
Something to look out for this autumn is the new selection of dark, moody finishes that dominate the Cattelan Italia range. Marmi Portoro ceramic and Brushed Bronze metal are just two of the striking new colourways that are not to be missed.