Bringing Back Wingbacks
Friday, 5 March 2021
Chairs are a secure staple in the home, but with so many different designs and styles, we often see a rotation of trends; and the latest trend we've seen is the wingback chair.
This traditional chair design — also known as the wing chair or fireside chair — normally features a high back with 'wings' that gently wrap around you. Originally designed in the 1600's, they didn't see a rise in popularity until the 1720's, so it's safe to say that this design is deep rooted in history. Nowadays, we've seen the design evolve into more contemporary and innovative shapes and styles, but all featuring the traditional enveloping feel.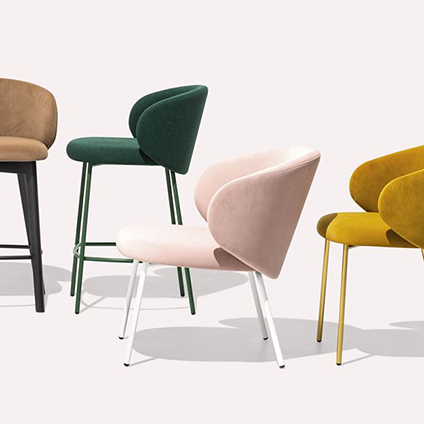 Pictured above: Holly by Calligaris and Tuka by Connubia Calligaris
Take the Holly Armchair by Calligaris or the Tuka Armchair by Connubia Calligaris — both have the signature wraparound wings from their backrests, but both feature lower backrests than their original inspirations. Their legs are cylindrical metal rods that give a sweeping retro nod to a contemporary style, and all parts are available in a vast array of fabrics and finishes.
For the more sophisticated and decadent interior, the Long Island Armchair by Bontempi offers a soft padded seat with a high back and wings that gently descend down into armrests. Featuring either a static metal base or a rotating metal swivel base, this luxurious design is available in a range of fabrics and finishes which lends itself comfortably to various interiors.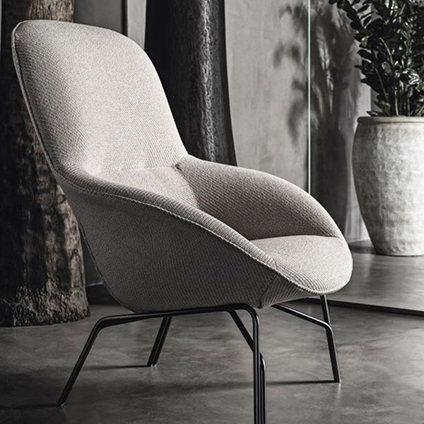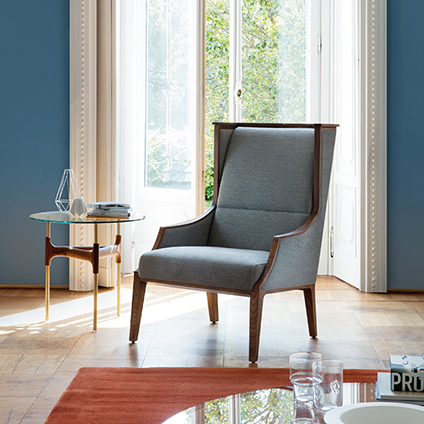 Pictured above: Long Island by Bontempi and Liala by Porada
If you're looking for something a little more traditional, the Liala Armchair by Porada has a solid Canaletto Walnut frame with maple wood edging details. This design also comes with either a relaxed low back or luxurious high back to suit your needs, both of which feature a top edge wing that drops vertically and then extends out into step shaped arms. Despite its traditional design, the Liala is available in a selection of fabrics and finishes meaning you can easily fit this into a whole host of spaces.
So if you haven't considered chairs for your next interior project, why not explore the wingback trend.