Autumn Home Essentials
Monday, 18 September 2017
Autumn is fast approaching and focus is shifting towards everyday essentials that will serve our living spaces throughout the colder months ahead. Fuse a range of fundamental interior elements with current trends for the perfect Autumn / Winter space.
Statement lighting
As the evenings draw in, additional lighting is often essential, striking lights such as the Calligaris Code Wave Floor Lamp presenting an ironic interpretation of the traditional lamp, its oversize presence introduces an eye catching feature with the ability to impact the entire feel of a room. When opting for sizable lighting, switch to LED, awareness of the energy saving benefits can result in big savings on your bills over the winter months.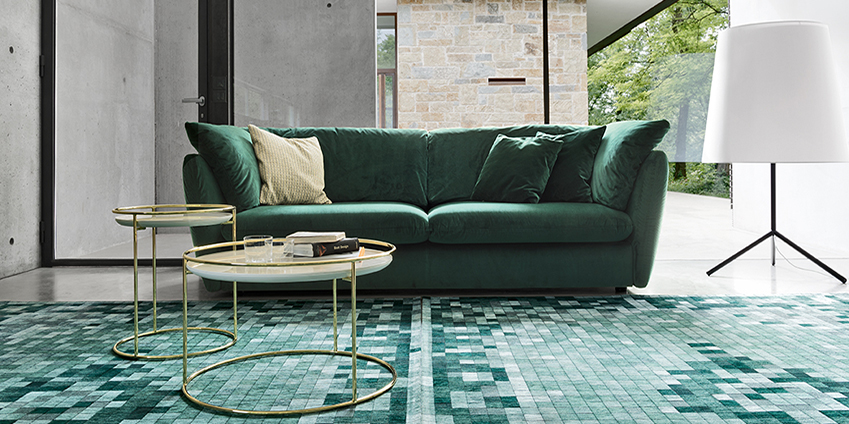 As Pictured Above from Left to Right: The Calligaris Coffee Table, Pixie Rug, Leaf Sofa and Atollo Coffee Table. Contemporary meets mid-century.
Soft Sofas
Exchanging long summer evenings for cosy nights in can be an enticing transition with the right sofa. Rounded and comforting shapes are set to continue informing current trends well into 2018. Introduced as part of their Milan 2017 Collection, the soft Calligaris Leaf Sofa features subtle high sloping armrests to enhance its relaxed, indulgent appeal. Plush emerald green tones are a favoured finish when partnered alongside glamorous brass accent as seen in the Atollo Coffee Table from Calligaris.
Textured Rugs
For hard floors or larger rooms, a rug can instantly pull a space together and create a warm intimate ambience. Alongside its comforting quality, a striking patterned variation such as the Calligaris Code Pixie Rug can be used to create texture and tone. Available in red or green, a distinctly modern feel with strong geometric detailing and a two-tone colour palette that will add depth to flat and neutral living areas.