5 Must See Things This Winter
Saturday, 20 November 2021
It's that time of year when we can start to enjoy winter celebrations up and down the country, from local lights and outdoor hot chocolates to go-all-out pantomimes and Christmas markets. Here are some must-see events in the run-up to this year's festive season, in no particular order: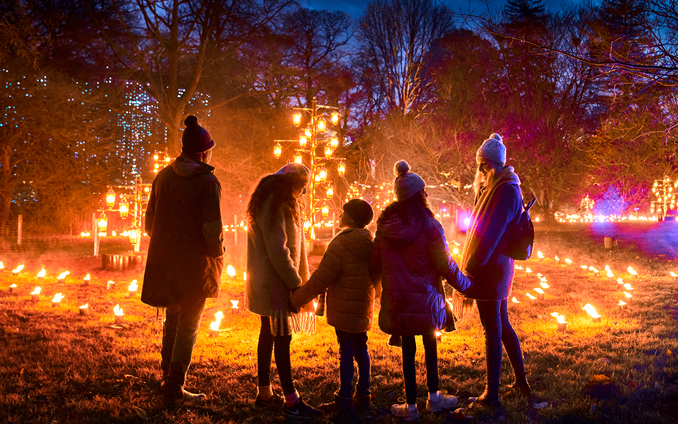 Pictured above: Christmas at Kew
1/ Hogwarts in the Snow - You could say that Harry Potter has become somewhat of a Christmas tradition, with the films taking prominent place in our TV viewing at this time of year. Warner Brothers' Harry Potter Studio tour in Watford offers a brilliant display of props, sets, costumes, and special effects that brought the movie magic to life, and at Christmas they decorate the entire experience with sparkling snow and show us exactly how 'December will be magic again…'
Leavesden, Watford. Booking: https://www.wbstudiotour.co.uk/whats-on/hogwarts-in-the-snow/
2/ Christmas at Kew Gardens - Kew Gardens in London plays host to some of the most creative and inspiring lighting displays. Their trails, tunnels, trees and pools all bounce and reflect brilliance to the gardens and decorate the skies with an array of dazzling colours. It's like a kaleidoscope of winter lights.
Richmond, Surrey. Booking: https://www.kew.org/kew-gardens/whats-on/christmas
3/ Lapland UK - Visiting Father Christmas and his reindeer is the ultimate Christmas experience for many a child, and the UK has brought its very own Lapland experience to Berkshire in the UK. Complete with snow, log cabins, and real huskies, visit the Father Christmas in his home from home and make your children's Christmas wishes come true.
Whitmoor Forest, Ascot, Berkshire. Booking: https://www.laplanduk.co.uk
4/ Britain's Biggest Singing Christmas Tree - Longleat is home to some of the most exotic and interesting animals the world has to offer, and at Christmas the zoo celebrates the season by bringing their famous hedge maze to life after dark, storytime with the owls, and of course belt out some of your favourite Carols with Britain's biggest singing Christmas tree.
Warminster, Wiltshire. Booking: https://www.longleat.co.uk/christmas-at-longleat
5/ It's Behind You! - We love a good Panto in Britain, so we recommend locating your local theatre and going out in support this year, as lockdown has impacted greatly on the theatre industry. If your local theatre is sold out then you can still join in the Christmas fun with some of the London's best and brightest, including Pantoland at the Palladium, Dick Whittington at the New Wimbledon Theatre and the classic The Snowman at Sadlers Wells.