1925: Art Deco is Born
Friday, 29 March 2019
The year 1925 saw the First Motel open in California, the Chrysler Corporation founded and the invention of the Scotch Tape. But 1925 was a hugely significant year in Art Deco History. Many international exhibitions helped promote Art Deco, but none was more important than the Paris Exhibition of 1925.
Officially entitled the Exposition Internationale des Arts Décoratifs et Industriels Modernes, it was dedicated to the display of modern decorative arts, from which Art Deco got its name. Thousands of designers exhibited from all over Europe and beyond. With over 16 million visitors, it marked the high point of the first phase of Art Deco.
The Exhibition's aim was to establish the pre-eminence of French taste and luxury goods. French displays dominated the exhibition and Paris itself was put on show as the most fashionable of cities. The pavilions of major manufacturers, department stores and designers, together with avenues of boutiques, enticed visitors to the fairground by day. By night, its monumental gates, bridges and fountains were a blaze of light. The Eiffel Tower bore the Citroën logo.
The Hôtel d'un Collectionneur was the most ambitious project by an individual designer and the most acclaimed display in the exhibition. It housed a suite of elegant rooms conceived by the leading French furniture maker, Jacques-Emile Ruhlmann. Pierre Patout designed the pavilion, with a vast oval room – the Grand Salon, as its focal point. Ruhlmann brought together many leading artists and designers to decorate the Salon, including Jean Dunand, Jean Dupas, Antoine Bourdelle and Edgar Brandt.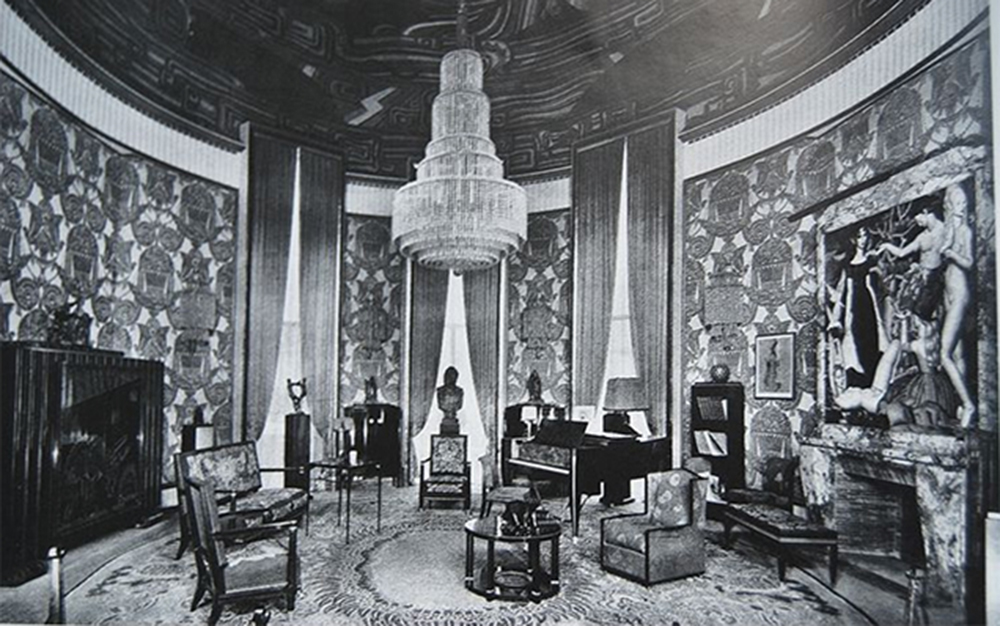 As pictured above: The Grand Salon
Its sumptuous decoration, rich use of colour and elegant modernisation of traditional forms and techniques have led many critics to consider the Grand Salon the greatest achievement of French Art Deco. Several works from the interior, notably the 'Donkey and Hedgehog' cabinet and Jean Dupas' painting Les Perruches, have become Art Deco icons.
The First Interiors Designers
Many of the Art Deco furniture makers were more than just cabinet makers. They designed entire interiors for their wealthy clients. Some were also architects and built houses with the interiors already thought out and furnished.
A few British designers were influenced by the high-end Art Deco style such as the Epstein Brothers and Ray Hille who worked with walnut and veneers, but it was only in the Thirties when mass production techniques and cheaper materials became available that Art Deco became a style for the middle classes instead of just the aristocracy and the fabulously wealthy.